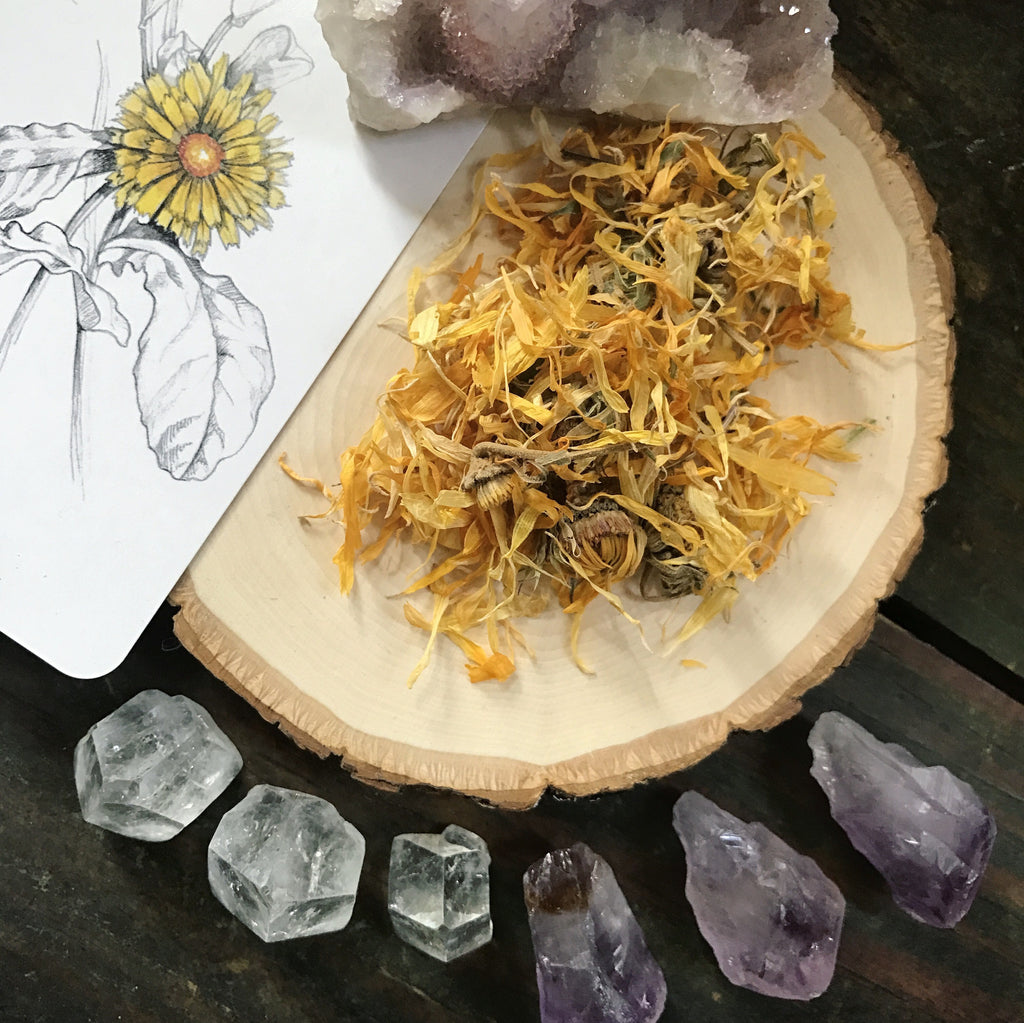 Calendula
I was recently asked why so many Cattail products contain rosehip seed oil and it got me thinking, that I don't talk nearly enough about these awesome ingredients. While there's tons of info in the shop listings, it might be more fun to have a more cohesive collection about the plants I use.  Materia medica is a Latin term for the body of collected knowledge about the therapeutic properties of any substance used for healing.  So here we go, the first post in the Cattail Materia Media and today I'm starting with Calendula since this powerhouse is found in SOOO MANY Cattail products. 
Calendula officinalis
Key Constituents: flavonoids, triterpenes, saponins, volatile oil, salicylic acid, mucilage and resin (calendulin)
Actions: vulnerary, anti-inflammatory, antibacterial, immune stimulant, anti-fungal, antiviral, cholagogue, diaphoretic, lymphatic, antispasmodic, emmenagogue
It's a powerful wound and tissue healer that has long been used to soothe and heal cuts, burns, bites, sprains, bruises, rashes, sunburns, and abrasions. It works as an analgesic to help relieve the pain associated with these types of wounds and skin irritations. Also helpful for upset stomach and sore throat. 
It is believed that calendula was first cultivated by St. Hildegard of Bingen, an herbalist and nun practicing herbalism in the 11th century in present day Germany.
Astrologically associated with the sun and the fire element, is provides protection and assists with clairvoyance. String the flowers above doorways to keep evil out and place beneath the bed to provide protection while sleeping.
It is said that picking the flowers under the noonday sun will strengthen and comfort the heart.
The fresh flowers are edible and can be used in teas, tinctures and infused oils.
Can be found in: (Not Just for) Nipples Balm, Healing Salve, Queen of Hungary's Water face toner, Veil of the Earth detox mask, Lip Balms, Solid Lotion Sticks, Flower Bomb Balm, and Face Oil.
---
1 comment